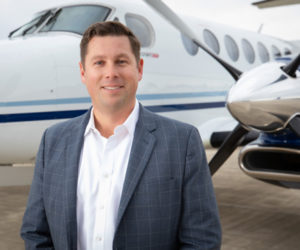 Lone Mountain Aircraft (LMA) is excited to announce that John Arnold joined the team earlier this year! 
John comes to LMA after spending 10 years with Cessna Aircraft (now Textron Aviation), where he held sales director responsibilities for the piston, Caravan, King Air and Citation 525 product lines and helped with Citation business development in Chicago. Before working at Cessna, John represented the SR20 product line for Cirrus Aircraft. 
Additionally, he holds a commercial rating for single-engine land/sea, multi-instrument, and single-pilot type rating for the Citation 525 series. John has flown 25+ aircraft, logging more than 2,500 hours. 
"John's background and expertise in Cessna and Cirrus Aircraft is a massive asset to our clients. I am confident he will elevate the Lone Mountain team and we are thankful to have him represent us," said Mark Rogers, Lone Mountain President. 
Growing up in an aviation community, John's father owned aircraft for business and family travel and the father-son team helped many neighbors build and restore aircraft. As John grew older, and his interest in aviation continued to develop, he worked with his father to restore their own Cessna 172. John would later use this Cessna to earn his private and instrument ratings. 
Once he received his ratings, John began his aviation career at Cirrus Aircraft. In the position, he flew across North America, selling and supporting the SR20 relaunch. John stayed on with Cirrus until joining Cessna in 2011. 
When not flying or talking aircraft, John loves playing games with his wife, Jennifer, and their three daughters Ella, Abigail and Elizabeth. He also enjoys boating on Lake Geneva and tinkering in the garage. John and his family currently live in suburban Chicago. 
Are you interested in selling, trading, or buying? John has the passion and expertise to help you find the perfect aircraft. Get in touch with him at jarnold@lonemtn.com.